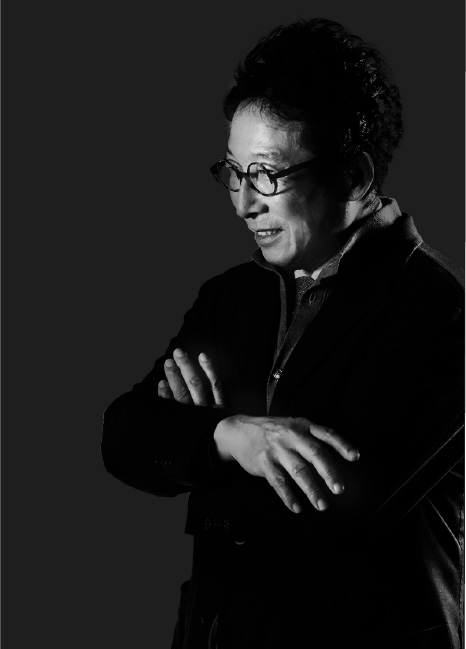 Profile
pursuit
Supple curves
Sleek lines
Smooth surfaces
of beauty

Japanese concepts of relaxation
Born in Tokyo in 1952, Hideo Shimizu moved to Milan in the 1970s to pursue his interests in interior design.
In 1982 he founded JAXSON, a high-end bathtub brand that brought Japanese concepts of relaxation to the field of luxury furniture design.
1952年、東京に生まれた清水秀男は、1970 年代にミラノに渡りインテリアデザインを学ぶ中で、デザイナーとしての自らのアイデンティティーを模索。
日本の伝統的な生活文化である風呂を西欧の高級ファニチャーブランドに匹敵する高級バスタブブランドとして1982 年にJAXSON を創業しました。

The sculpted contours and refined silhouettes
The sculpted contours and refined silhouettes of his deep soaking tubs united fine craftsmanship with innovative acrylic molding techniques, and his solutions for upscale resorts and residences around the world went on to transform thinking about lifestyle choices in bathing.
肩までゆっくり湯に浸かる日本の風呂のスタイルと職人技術をマッチングさせたアクリルの革新的なバスタブで、日本の風呂がもつリラクゼーションの魅力を世界に発信。バスタブデザイナーとして世界のリゾートホテルや住宅におけるラグジュアリーな浴室空間のプロデュースを数々手掛け、バスライフに変革を起こしてきました。
His latest creations point the way forward to a new stage of bathtub design.
Shimizu's subsequent brand, HIDEO, takes the bath experience still further with improved safety considerations, including the ease of stepping in and out of the tub, and leading-edge manufacturing techniques that enhance comfort and performance.
新たに立ち上げたHIDEOブランドでは、過去の経験によって得た知見から、バスタブの入りやすさと安全性という機能をより強固に、最先端の製造技術でさらなる快適性とデザイン性を追究。バスタブは高級家具へと進化を遂げ、清水のバスタブは新たなステージへと歩みを続けます。

history
The History of
Hideo Shimizu
1994
Succeeded in manufacturing the first vacuum-formed acrylic bathtub in Japan.
1994
The first bathtub manufacturer in Japan to be nominated for the Golden Compass Award.
1995
The exhibition was held at the Laforet Museum in Roppongi, Tokyo.
Exhibited at the KBIS SHOW in Chicago for the second year in a row.
1997
Exhibited at the Bagno Senza Confini held in Italy.
Exhibited as SHIMIZU brand at CERSAIE held in Italy.
2002
Invited to the organizer's booth at IFFT, a lifestyle show held in Tokyo
2003
Invited to the exhibition of Good Design Award winning works "Design Initiative" held in Tokyo for the second year in a row.
2005
Exhibited at Milano Fuori Salone. 15 models of resort-style bathtubs "Barco Series" were launched ahead of the Japanese market.
Joined the Design Initiative and launched the Barco Series.
Exhibited at 100% Design Tokyo, held for the first time in Japan
2006
Participated in Dubai Boat Show in collaboration with YAMAHA Motor Cruiser
2008
Grand opening of JAXSON Studio & Factory (Studio is currently closed)
2009
HIDEO SHIMIZU was introduced on the TV program "100 Japanese who changed the world" in TV Tokyo.
2009
Became an affiliate company of LIXIL Group. Appointed Chief Design Officer
2010
HIDEO SHIMIZU was introduced in "The Mark of Beauty" on NHK educational TV
2011
Hideo Shimizu was featured in the TV Tokyo program "Dawn of Gaia" as a bathtub designer who brings out the bathing culture of Japan.
2021
Launch of a new brand HIDEO by a new company HIDEO Corporation.